Here are our fantastic Instructors for BamBLOOZled 2014 (in alphabetical order by first name):
Joe DeMers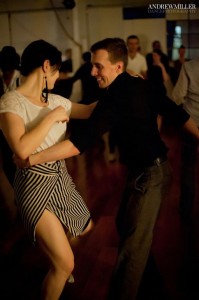 Joe is a champion Blues instructor based in Denver, CO. He has toured the world teaching and performing from South Korea to France, Canada and all over the US. He loves to dance and is proud to be a dancer, performer, competitor, and instructor. He is known for bringing excellent opportunities of critical thinking and analysis of Blues to the classroom. His Drag Blues style is nicely blended with Jookin' and captures the lively rhythms and themes of Blues music. He is known for encouraging follower expression in the dance as an equal partner to the leader.
Joe is a proponent of Frame Matching and the creator of ΔpTed, a framework for analyzing and teaching partner-dance connection. He runs a 6-day, Blues dance instructor training in Denver, CO. He enjoys sushi, anime, long walks on the beach, and dancing with Shoshi Kreiger. For more information on Joe, or Frame Matching and ΔpTed. check out his website at joeandnelle.com and bluesdanceteacher.com.
Julie Brown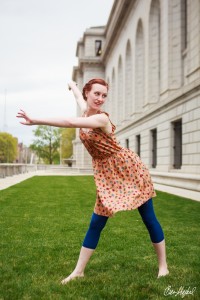 Julie's expressive dancing and joyful, playful connection are known throughout the country. With a background in performance and solo dance, she is best known for her solo blues, artistic choreography, and seamlessly integrating following with expression.
As a teacher,  Julie presents material with a caring and light-hearted tone. She carefully crafts her classes and continuously tailors her material to fit the crowd at hand. Julie teaches regularly in her hometown of Boston, and has taught workshops everywhere from California to London.
A hard-working competitor,  Julie has also won many national competitions, including bluesSHOUT 2014 All Star Jack & Jill, Steel City Blues 2014 Open Jack & Jill, Enter the Blues 2014 Strictly & Choreography Competition, and many more.
Mary Christensen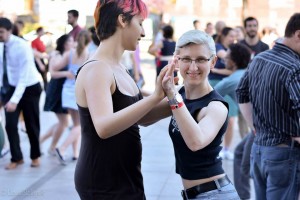 Mary has been swing and blues dancing since 2000, and is the founder of the ground-breaking dance community at Yale University, where every dancer both leads and follows. She lives and works in New York City, where she teaches for Dance Manhattan and coordinates the weekly dance Gotham City Blues.
Passionate about great teaching, Mary is always looking for the best way to make material clear and memorable and to make classes fun and comfortable. She has taught dance and trained dance teachers all over the world, from California to Copenhagen, Oberlin to Ireland. She has also been invited to speak on her teaching and community organizing at academic and activist conferences, including the Congress for Research on Dance, the Dance Research Forum Ireland, and Creating Change. But she is most proud of her cartoon voices and her math jokes.
Mary believes that partner dance brings vital joy, strength and connectedness to our lives. She'd love to dance with you…just ask her!
Mike Grosser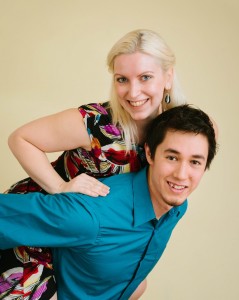 Mike reluctantly started social dancing in college when a couple of his friends persuaded him to do some ballroom east coast swing in their dorm social lounge. In the many years since then, dance has steadily taken over Mike's life. He has now danced until sunrise more times than he remembers, been a dance nomad with no home base for years, and taught around the US, Canada, and Europe.
As an instructor, Mike strives to put himself in his students' shoes so that he can explain techniques as intuitively and thoroughly as possible. He loves seeing students' eyes light up when they understand a concept or feel a movement work naturally in their body for the first time.
Mike is constantly working on his movement. If you run into Mike at grocery store, on public transit, in a museum, or on a mountain top, you'll probably catch him dancing.
Nicole Balcom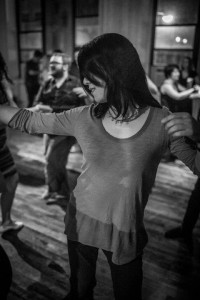 A social dancer at heart, Nicole loves Blues music and dance, and looks at an open dance floor in the same way a kitten would, because she is a kitten. Her playful nature leads her to a belief that individual style and creativity are a must, and need to be wound around a solid fundamental core. Her approach to instruction reflects this by placing the basic concepts into boxes, where she can be found peering out from one of them, or hopping from one to another; connecting and relating them to provide a cohesive understanding of the dance.
Wide eyed and full of energy, Nicole can be found dancing across the country and hopes that she can provide mew with the tools to make the dance your own.
Rachel Stirling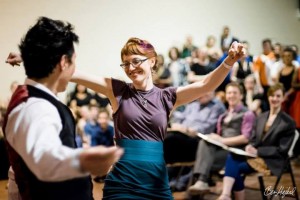 Though she's been dancing all her life it wasn't until 2003 that Rachel got her first taste of blues dancing, shortly after getting hooked on lindy hop. She fell in love with the intimate connection between your partner and the music and all that hip movement. As her blues dancing has grown, she continues to marvel at the unlimited possibilities of self-expression and movement.
When teaching dance, Rachel loves putting her degree in education to good use. Known for her incredible patience and ability to explain and demonstrate concepts in a variety of ways, she strives to get those "Aha!" moments. Rooted in strong fundamentals and clean technique, her lessons enjoy finding fun ways to sneak that focus into peoples' dancing.  As a regional and national instructor, scene organizer, and avid competitor/performer, she is spreading her love of Blues from coast to coast.  www.redstirling.com
Ruth Evelyn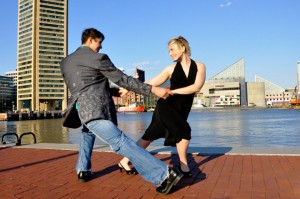 Ruth Evelyn skipped into her first dance class more than 25 years ago, and has since been dancing as many styles as she can get her feet on.
Ruth's 15+ years as a dance instructor have taken her on teaching adventures across the US, Canada, Europe and Southeast Asia. She has continually developed both her teaching and her dancing skills. Ruth is known for her ability to craft explanations that fit students' learning styles. She brings a vibrant mixture of deep technical knowledge, passion for movement, and silly fun that students can't help but connect with.
In addition to training in blues, lindy, Argentine tango, modern, ballet and many other dance forms, Ruth is certified in Franklin Method, an increasingly popular body somatics method. She has a long-standing love affair with close-embrace connection, has sneakily swung out in the Louvre, and is curating a fine collection of fishtail variations.
Shawn Hershey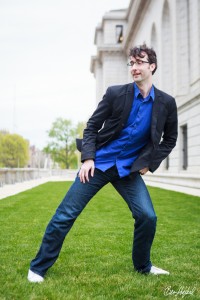 Shawn came from an extensive music background, studying classical trumpet performance at the Eastman School of Music, so when he started lindy hopping in 1999 with the Lindybaby studio, he quickly got hooked! He has studied extensively at camps and workshops with nationally renowned instructors, and in 2002, started teaching swing and lindy hop in Boston around with various partners. Shawn also began teaching and performing lindy hop internationally with his sister, Betina Hershey.
Shawn's style is a blend of traditional blues, lindy hop, and tango. He strives for technical perfection, but values musicality and fun above all else! Shawn has won or placed in dozens of blues competitions throughout the years, most notably Enter the Blues, Mile High Blues, Emerald City Blues, Cheap Thrills, and BluesSHOUT! He started teaching blues in 2005, and has since traveled and taught at workshops and events around the US and Europe, including Blues Muse, Austin Blues Party, Down Home Blues, the Fusion Exchange, and BluesSHOUT! Shawn teaches locally and nationally with Amanda Gruhl, Julie Brown, and Natalya Gomez. He has also taught with Mike Legett, Heidi Fite, Joy Arico, and Kathy Warwick. http://shawnhershey.com/