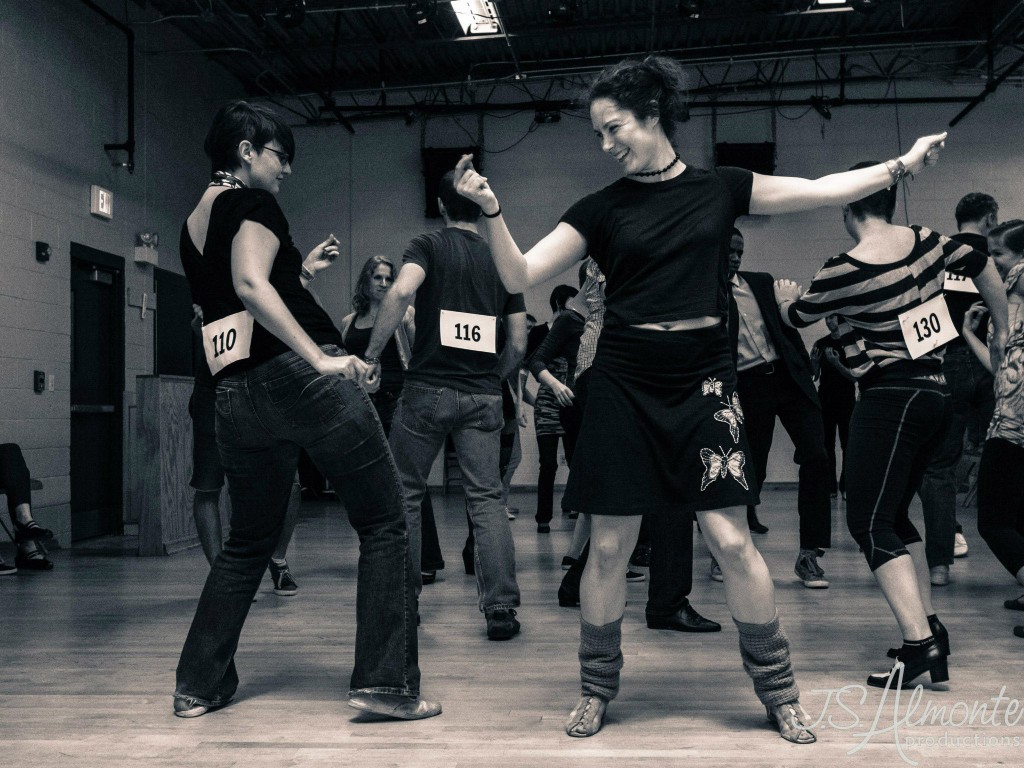 Competition Results!
Newcomer Pro-Am (results listed Newcomer & Instructor):
1st ~ Brian Le & Megan Taylor Morrison
2nd ~ Jillian Carnrick & Ruby Red
3rd ~ Elizabeth Essex & Ted Maddry
Strictly Blues:
1st ~ Aaron Brown & Katie Belsky
2nd ~ Brian Richards & Laura Chieko
3rd ~ Andrew Smith & Flouer Evelyn
Mixed Open+Invitational Jack and Jill (results listed Open & Invitational):
1st ~ Kate Feldman & Brian Richards
2nd ~ Mary Ingram & Chris Carey
3rd ~ Jeff Segal & Joy Arico
Solo Riffin':
1st ~ Elizabeth Tuazon
2nd ~ Shoshi Krieger
Winners receive Prize Passes from the following events:
bluesSHOUT! (Chicago, IL) ~ April 14-16, 2016
North Star Blues (Minneapolis, MN) ~ Sept 16-18, 2016
Steel City Blues (Pittsburgh PA) ~ March 4-6, 2016
Nocturne Blues (New York, NY) ~ July 2016
Mile High Blues (Denver, CO) ~ June 24-26, 2016
Winter Blues (Greenville, SC) ~ Jan 29-31, 2016
Sweet Molasses (Boston, MA) ~ July 2016
Rose City Blues (Portland, OR) ~ Nov 6-8, 2016
Blues Yourself (Boston, MA) ~ Sept 9-11 2016
Snowbound (Rochester, NY) ~ Dec 4-6, 2015
Red Hot Blues 'n BBQ (Washington, DC) ~ May 2016
This year, we're putting a new twist on our competitions, so that they are more fun to watch, more exciting to participate in, and more innovative overall. In addition to space for choreography showcase performances (which are always new and different thanks to the work of dancers who put major amounts of creativity into their choreo projects), we'll have…
Newcomer Jack & Jill Pro-Am with Instructors
Prelims: Friday Main Dance, 1st band break
Finals: Friday Main Dance, 2nd band break
Cost: Free
This competition is an opportunity to showcase relatively new-to-competing dancers, as well as our instructors!  Newcomers are dancers who have never placed in finals of a blues competition.  Prelims (Friday main dance, 1st band break): newcomers will dance multiple songs with other competitors who have been randomly paired.  Finals (Friday main dance, 2nd band break): 5 newcomer leaders and 5 newcomer followers will dance multiple songs with a randomly paired instructor for the weekend.  Event pass prizes for first through third place.
Mixed Invitational+Open Jack & Jill
Prelims: Start of Saturday Late Night Dance at 12:45 am (check-in at 12:30 am)
Finals: Saturday Late Night Dance, following prelims
Cost: $5/person
We've revamped the typical Jack and Jill (J&J) format to have a truer test of a dancer's ability to dance with a variety of styles and levels.  Finals will have Open and Invitational dancers dancing together!  Open J&J is open to any dancer who isn't an weekend instructor or in the Invitational.  Invitational J&J competitors will be past instructors or frequently placing competitors.  Prelims: competitors will dance multiple songs with other competitors at their level who have been randomly paired.  Finals (Sat late night): 4 Open J&J leads dance randomly with 4 Invitational followers and 4 Open J&J followers dance randomly with 4 Invitational leads.  Event pass prizes for 1st-3rd.
Strictly Comp
Prelims: Saturday after the end of classes at 6:15 pm
Finals: Saturday Main Dance, end of second band break (approximately 10:30pm)
Cost: $5/person
This is a no holds barred competition!  Sign up with a partner and be prepared to throw down!  This is your opportunity to show off those tricks you've been working on.  Prelims: couples will demonstrate good technique, partnering, blues aesthetic, musicality, and showmanship, and floorcraft.  Finals: couples will have spotlights to showcase all their badassery (tricks, dips, switch-dancing, etc).  Event pass prizes for 1st-3rd.
Solo Riffin' Comp
Prelims: Sunday right before the main dance at 8:45 pm (check-in at 8:30 pm)
Finals: Sunday Main Dance, start of second band set
Cost: $5/person
Riffing is an exchange of movement between dancers used to inspire new and creative expressions of movement.  Competitors will be playing back and forth and layering movements to create something new together.  The preliminary round will be just before the start of the Sunday main dance, and will consist of a few all-skates, where competitors will move around the floor interacting with different dancers.  The final round will be during the first band break at the main dance on Sunday, contestants will enter and leave the circle on their own, keeping at least two contestants solo dancing together at a time.  Judges will be looking for musicality, creativity, blues aesthetic, and quality of movement in individual dancers, as well as the ability to collaborate with fellow dancers and take turns adding and listening to the exchange.  Event pass prizes for 1st and 2nd.
If you're interested in submitting a choreography piece to be performed at BamBLOOZled, please send a video to capitalblues.info [at] gmail.com for consideration. We're excited to see what you've put together! Choreo performance(s) will occur during the first band break at the Saturday Main Dance.