Capital Blues is super-excited to announce our instructors for BamBLOOZled 2015!
Featured Instructors
Adjunct Instructors
Featured Instructors
Ted Maddry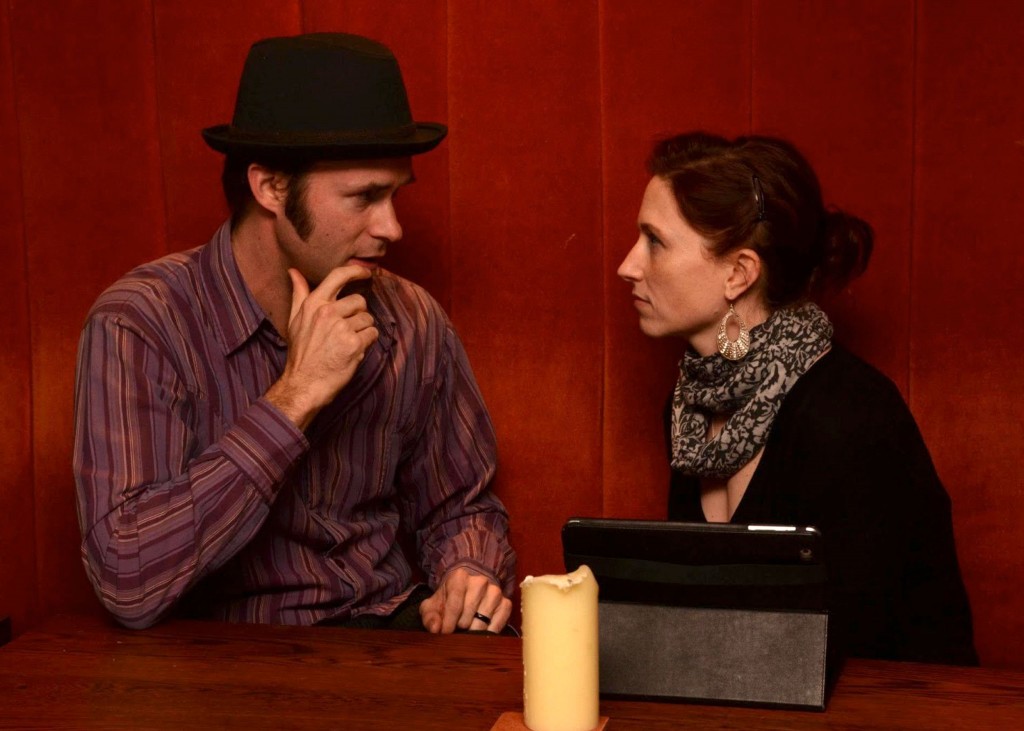 As a teacher, Ted Maddry has helped thousands of students improve their dancing and sometimes even their lives. In his classes, he will challenge you to develop dance technique, experiment and take risks in your dancing all the while maintaining a comfortable & entertaining classroom environment.. You will gain new perspectives, unique material, and sometimes you will even learn how the same methods you use to improve your dancing can also be used to improve your non-dance life. Ted has also started and run weekly dance events in Seattle and San Francisco, as well as Camp Blues. His passion is inspiring people to engage more fully, as dancers and in their lives.
Ruby Red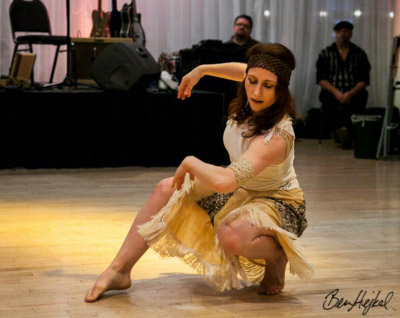 Ruby started Swing dancing in San Francisco in 2001 and discovered Blues soon after. She has had the pleasure of DJing and teaching nationally and throughout Europe. A fierce competitor, she has placed and finaled in numerous Blues competitions both as a lead and as a follow. As an instructor and judge, she values connection, musicality, partnership and risk-taking. With extensive training in body mechanics and as a massage therapist, Ruby easily diagnoses technique flaws and creates innovative practice regimens both in and out of class to help all her students excel. When she's not kicking ass on the dance floor, she's studying the intersection of physics and dance.
Tim O'Neill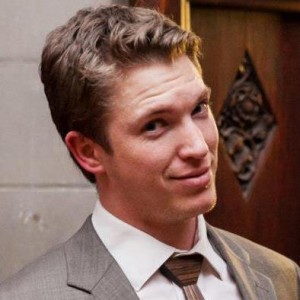 Why should you take classes with Tim? Here is what some of his friends, teachers, and students have said about him: He is a natural teacher and could teach fantastic classes without much effort, but still puts a huge amount of effort into planning. The classes create a comprehensive and fulfilling experience that carries a broader message about the relationship of the dancer to the community, the dance, and its history. But teaching is ultimately about the personal and individual investment in the student; Tim is sincerely inspired by the progress and happiness of anyone who works with him. He is honored to have that experience and is motivated by a deep sense of responsibility to his students. In class Tim is commanding, engaging, direct, and humble.
Since 1997 Tim has studied and taught Blues, Lindy, Ballroom, and Argentine Tango. He has won over a dozen Blues competition titles and is invited to teach at the biggest Blues events in the world. He even wrote two theses for an M.A. in Sociology on social dynamics and body language observed in dance venues. His teaching philosophy is that the best way to dance is to have fun, and learning dance enhances that ability. And he is really excited to see you at BamBLOOZled!
Rachel Stirling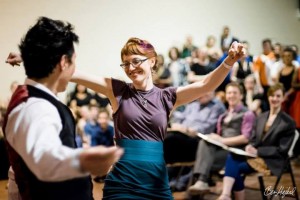 Though she's been dancing all her life it wasn't until 2003 that Rachel got her first taste of blues dancing, shortly after getting hooked on lindy hop. She fell in love with the intimate connection between your partner and the music and all that hip movement. As her blues dancing has grown, she continues to marvel at the unlimited possibilities of self-expression and movement.
When teaching dance, Rachel loves putting her degree in education to good use. Known for her incredible patience and ability to explain and demonstrate concepts in a variety of ways, she strives to get those "Aha!" moments. Rooted in strong fundamentals and clean technique, her lessons enjoy finding fun ways to sneak that focus into peoples' dancing.  As a regional and national instructor, scene organizer, and avid competitor/performer, she is spreading her love of Blues from coast to coast.
Mike Grosser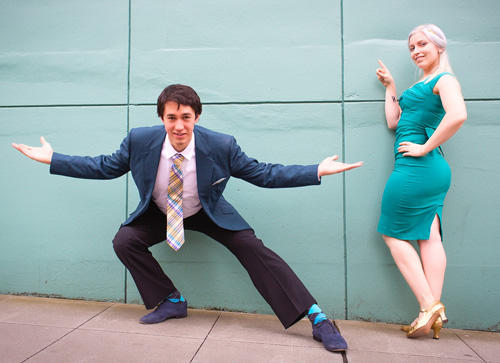 Mike reluctantly started social dancing in college when a couple of his friends persuaded him to do some ballroom east coast swing in their dorm social lounge. In the many years since then, dance has steadily taken over Mike's life. He has now danced until sunrise more times than he remembers, been a dance nomad with no home base for years, and taught around the US, Canada, and Europe.
As an instructor, Mike strives to put himself in his students' shoes so that he can explain techniques as intuitively and thoroughly as possible. He loves seeing students' eyes light up when they understand a concept or feel a movement work naturally in their body for the first time.
Mike is constantly working on his movement. If you run into Mike at grocery store, on public transit, in a museum, or on a mountain top, you'll probably catch him dancing.
Ruth Evelyn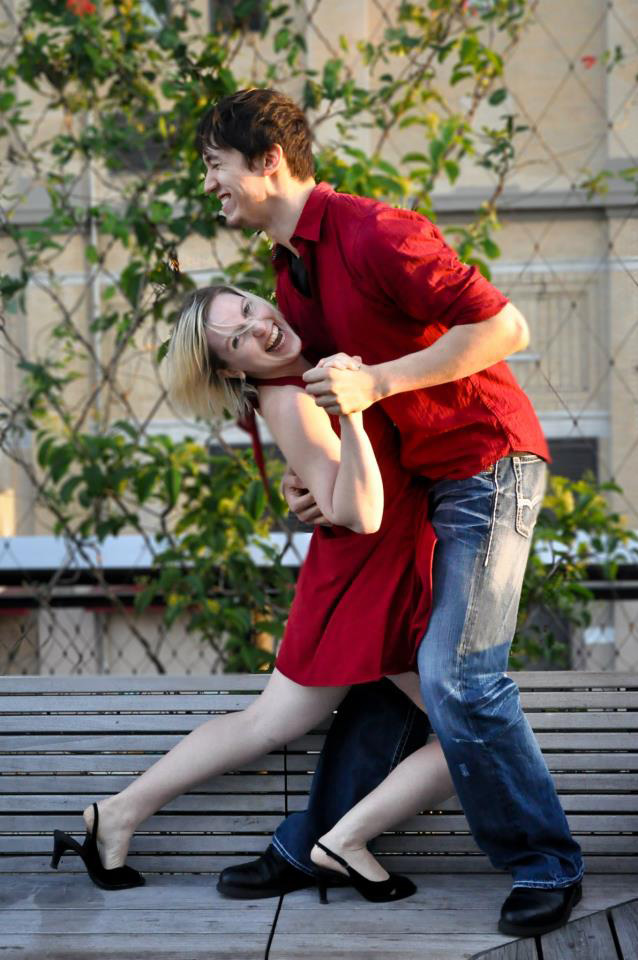 Ruth Evelyn skipped into her first dance class more than 25 years ago, and has since been dancing as many styles as she can get her feet on. Ruth's 15+ years as a dance instructor have taken her on teaching adventures across the US, Canada, Europe and Southeast Asia. She has continually developed both her teaching and her dancing skills. Ruth is known for her ability to craft explanations that fit students' learning styles. She brings a vibrant mixture of deep technical knowledge, passion for movement, and silly fun that students can't help but connect with.
In addition to training in blues, Lindy, Balboa, Argentine tango, modern, ballet, and many other dance forms, Ruth is certified in Franklin Method, an increasingly popular body somatics method. She has a long-standing love affair with close-embrace connection, has sneakily swung out in the Louvre, and is curating a fine collection of fishtail variations.
Adjunct Instructors
Megan Taylor Morrison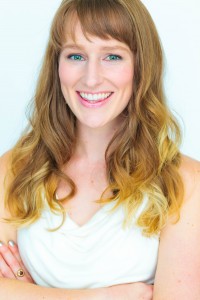 Megan is a dance instructor, ontological life coach, and the founder of Dance Adventures–a company that runs dance expeditions worldwide. She believes in the power of movement to bring joy, play, connection, and freedom to people's lives.
Megan began teaching blues in Seattle in 2005 and has since taught, performed, organized, and competed in numerous cities around the United States. Megan and John Joven are the founders of the online dance program Breakthrough Blues–a one-month online intensive that focuses on the blues aesthetic and skyrocketing participant's dancing. Megan lives in Arlington, Virginia. She teachers and DJs in her home scene in Washington, DC.
Philippe Wilson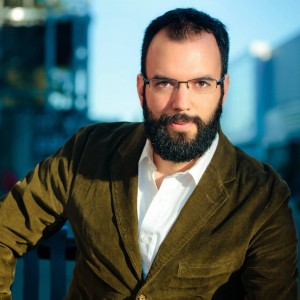 Recently referred to as Blues Dance's "best kept secret lead", Philippe is all about listening to the music and his partner, and interpreting both with exquisite flair. He combines precise leads with musical integrity, creating a dynamic dance that feels ooey-gooey in all the right ways. Although Philippe has rocked some competitions (1st place Blues Shout Pro-Am, 1st place Blues Muse J&J), his first and true love is social dancing. Philippe learned to dance and teach in Austin, TX, where you can dance to live music nearly 8 nights a week. He now lives in the San Francisco Bay Area where he's designing very cool things for very cool mobile devices (i.e. he's fluent in geek speak).
John Joven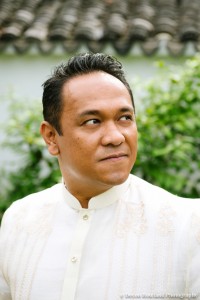 John discovered dance during the neo-swing revival of the late 90s in Chicago and has been hooked ever since.He got is start teaching lindy and blues with Big City Swing in Chicago in 2009, but had been a performer in the company troupe since 2004. He currently teaches lindy at Brooklyn Swings. Dancing competitively since 2009, he has won and placed in many Jack & Jill and Strictly Blues competitions. His dancing and teaching are grounded in the blues aesthetic and an appreciation for the physical expression of the emotions of the music. He teaches his students to find their own style and ways of moving within the context of the fundamentals and encourages them to add their voice in the conversation of the dance.
Laney Barhaugh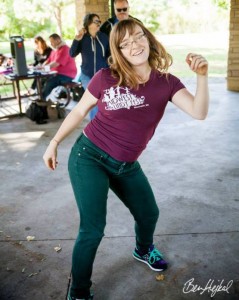 Laney is a blues dance instructor, organizer, and DJ. She has been dancing Lindy Hop and blues for 10 (!) years, with some dabbling in tango and hip hop. She also loves lifting heavy things – it has given her a confidence and a quality of movement that has completely changed her dancing. She loves shaking her booty to any genre of music that encourages it. As a teacher, her goals are to integrate a little history and a little musicality into every lesson. She won first place in the Open JnJ at bluesSHOUT! in 2015, and has had the pleasure of making finals at Heartland Swing Festival, Enter the Blues, Blues Muse, Winter Blues, and Nocturne Blues.
Nicole Balcom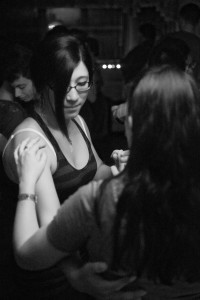 A social dancer at heart, Nicole loves Blues music and dance, and looks at an open dance floor in the same way a kitten would, because she is a kitten. Her playful nature leads her to a belief that individual style and creativity are a must, and need to be wound around a solid fundamental core. Her approach to instruction reflects this by placing the basic concepts into boxes, where she can be found peering out from one of them, or hopping from one to another; connecting and relating them to provide a cohesive understanding of the dance. Wide eyed and full of energy, Nicole can be found dancing across the country and hopes that she can provide mew with the tools to make the dance your own.