Here are our fantastic Instructors for BamBLOOZled 2017 (in alphabetical order by first name):
Clyde Wright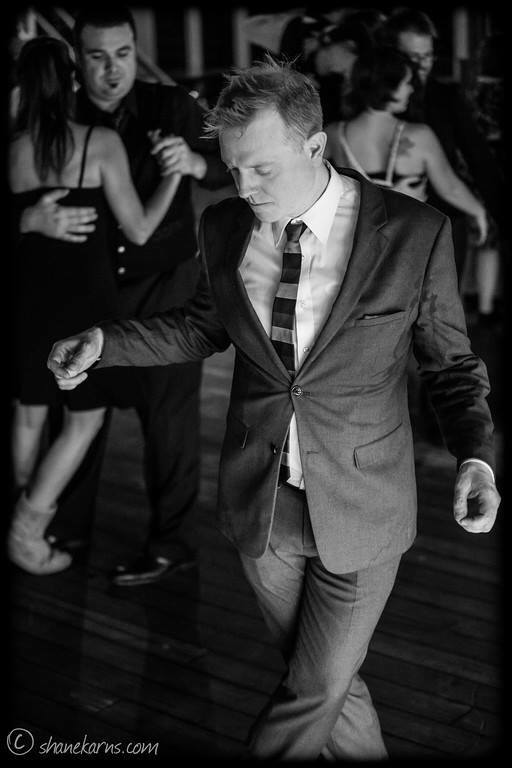 Clyde Wright is a social dancer, teacher, DJ, competitor and performer from Washington DC with over fifteen years of partner dance and stage (dramas, musicals, operetta) experience and a lifetime of musical experience in a variety of forms. His intense study of partner dances began over a decade ago with West Coast Swing and he quickly discovered Blues, Tango, Lindy, Salsa and Fusion dancing from there. His natural curiosity and love for learning has driven him to study all of these forms in private lessons with nationally-recognized instructors, allowing him to quickly accelerate his learning. Clyde is most interested in being the best partner he can, and is passionate about both leading and following in all of the dance forms he has studied. He has placed and won in many Blues and West Coast Swing competitions over the years, in addition to performing various choreographed pieces, of which he has created with his partners.
As an instructor, he loves breaking down all of the subtle interactions that can happen between partners in a variety of ways to help students with the learning process, and is interested in bringing new methods of teaching to groups that aren't commonly seen in social dance instruction. His instructional style is breezy, entertaining, and self-aware, knowing that a relaxed, fun learning environment is the ideal incubation for creativity and exploration. Clyde teaches and DJs regularly in Washington, DC and is hired to teach and DJ regionally up and down the East Coast.
Recent projects of Clyde's include co-hosting and creating the Blues Dance World and Fuse Muse podcasts and his current area of dance study is Balboa.
Dan Repsch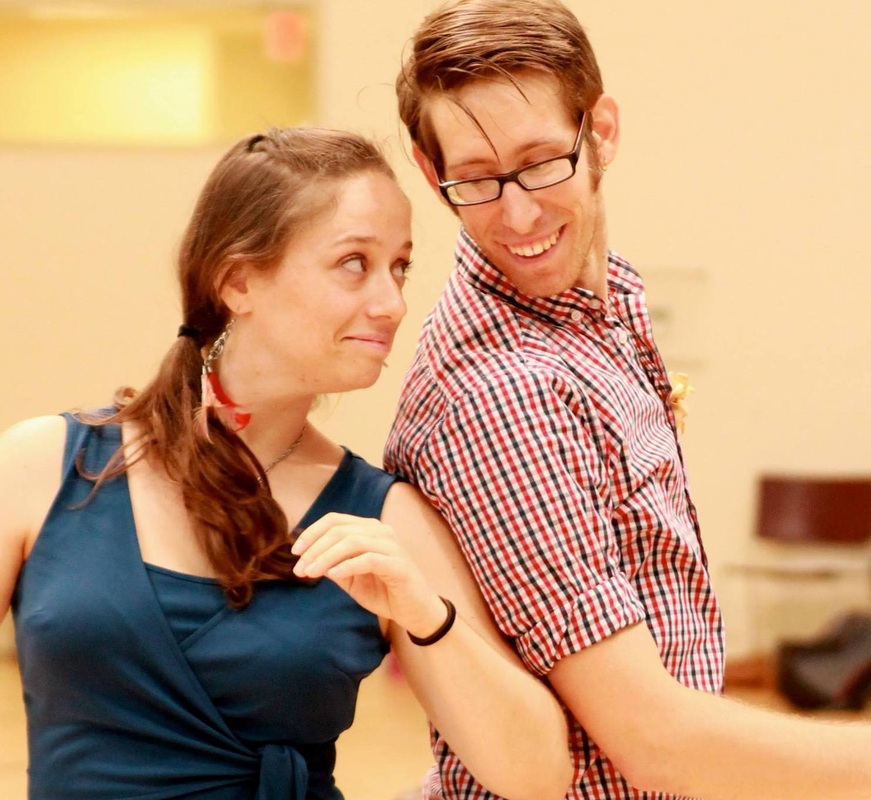 Dan is immersed in the music and the movement. He constantly travels to continue learning, happily sharing his ideas along the way. In his teaching, Dan's enthusiastic approach brings a focus on innovation, connection, and attention to your partner. Dan is also a veteran DJ, spinning for events across the continent and locally on a weekly basis, and has dabbled in organizing for events and local dances. In the end, Dan is most excited to push his dancing and to see his students break through their boundaries.
Jenny Sowden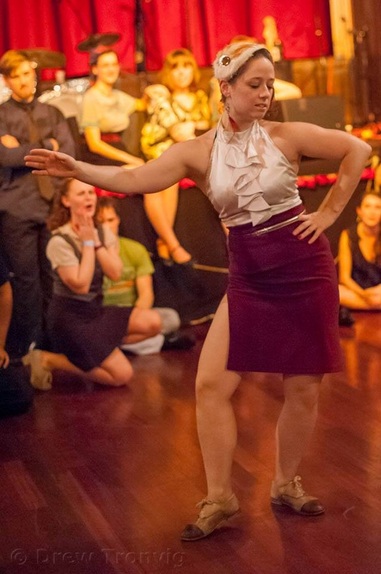 Jenny Sowden is an award winning, full-time, international dance instructor based in New York City where she is the managing director of Brooklyn Swings and nycBABBLE.com. Jenny has been training in dance for over 25 years and teaching for over 20 years, with a BA in Dance and Theater from San Diego State University. She has studied 34 different styles of movement including Ballet, Tap, Hip Hop, West African, Capoeira, Aikido, Tango, Salsa, Lindy hop, Balboa, and Blues. Her background influences her teaching and general style through musicality, variety, expression and an understanding of body mechanics. Jenny believes the dance floor is a 'World of Yes,' where by constantly accepting and being inspired by what happens, creates an amazing place to be. We then take classes in a 'World of Intention' to expand our 'World of Yes.' Find out more at JennySowden.com.
John Joven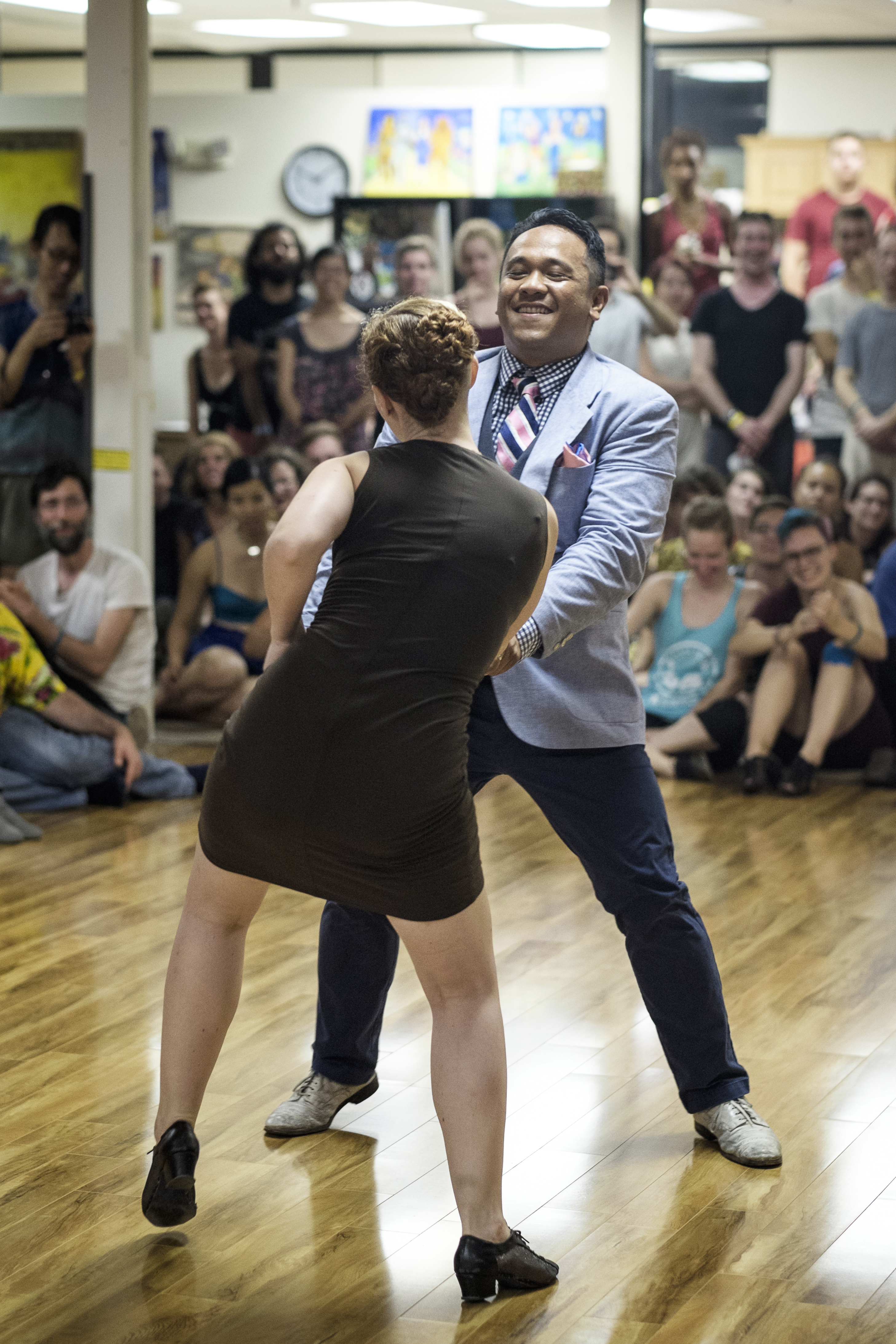 John discovered dance during the neo-swing revival of the late 90s in Chicago and has been hooked ever since.He got is start teaching lindy and blues with Big City Swing in Chicago in 2009, but had been a performer in the company troupe since 2004. Over the years, he expanded his interests to DJing, event organizing, and completing. He has spun at many national and regional events, is a co-founder of the Chicago Underground Blues Experience, and has won and placed in many blues competitions. His dancing and teaching are grounded in the blues aesthetic and an appreciation for the physical expression of the emotions of the music. He teaches his students to find their own style and ways of moving within the context of the fundamentals and encourages them to add their voice in the conversation of the dance.
Kara Fabina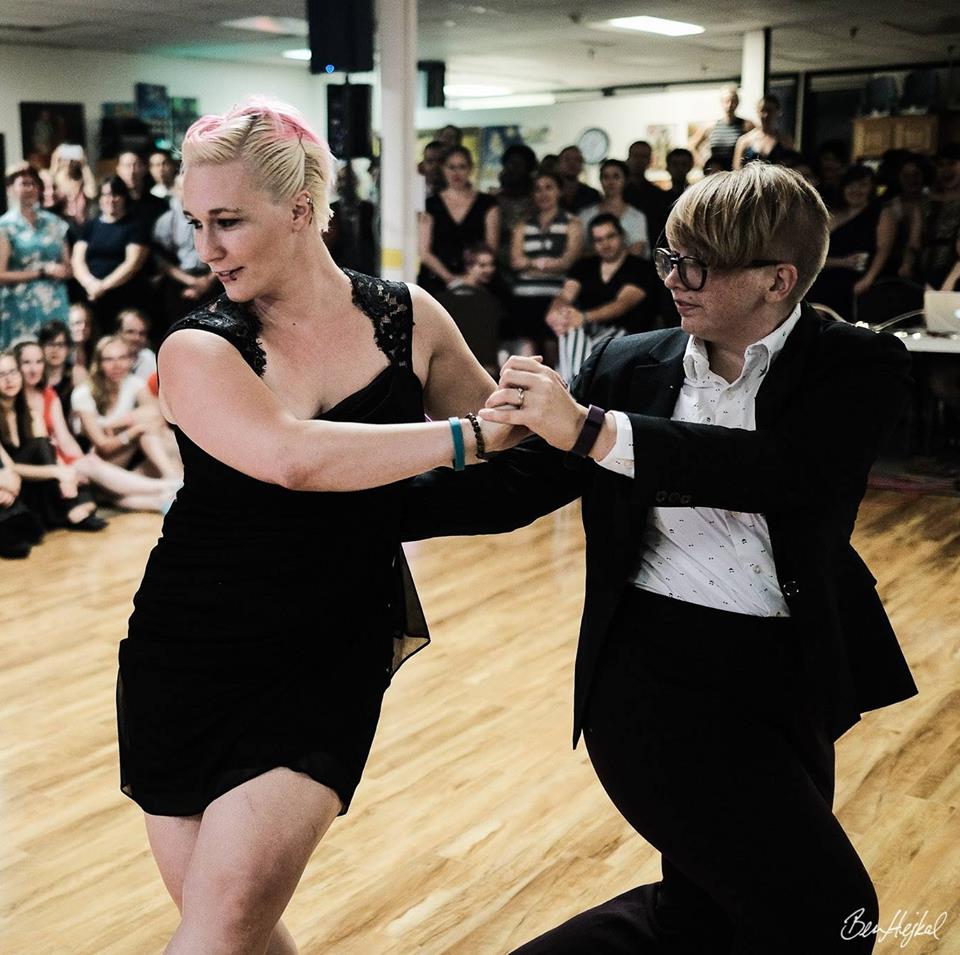 Kara Fabina is an international dance instructor based in Colorado Springs. Since 2008 she has been teaching and competing jazz, swing and blues throughout the world. Having been dancing for over two decades, Kara brings both knowledge and experience to the dance floor. She has been recognized internationally for her choreography as well as her achievements in competitions. As an instructor, she stresses connection with one's partner, connection to the music, and intention in dancing. Her real passion is to become a dance historian and study each style's rich history and culture.
Find out more at www.kineticallykara.com
Laura Chieko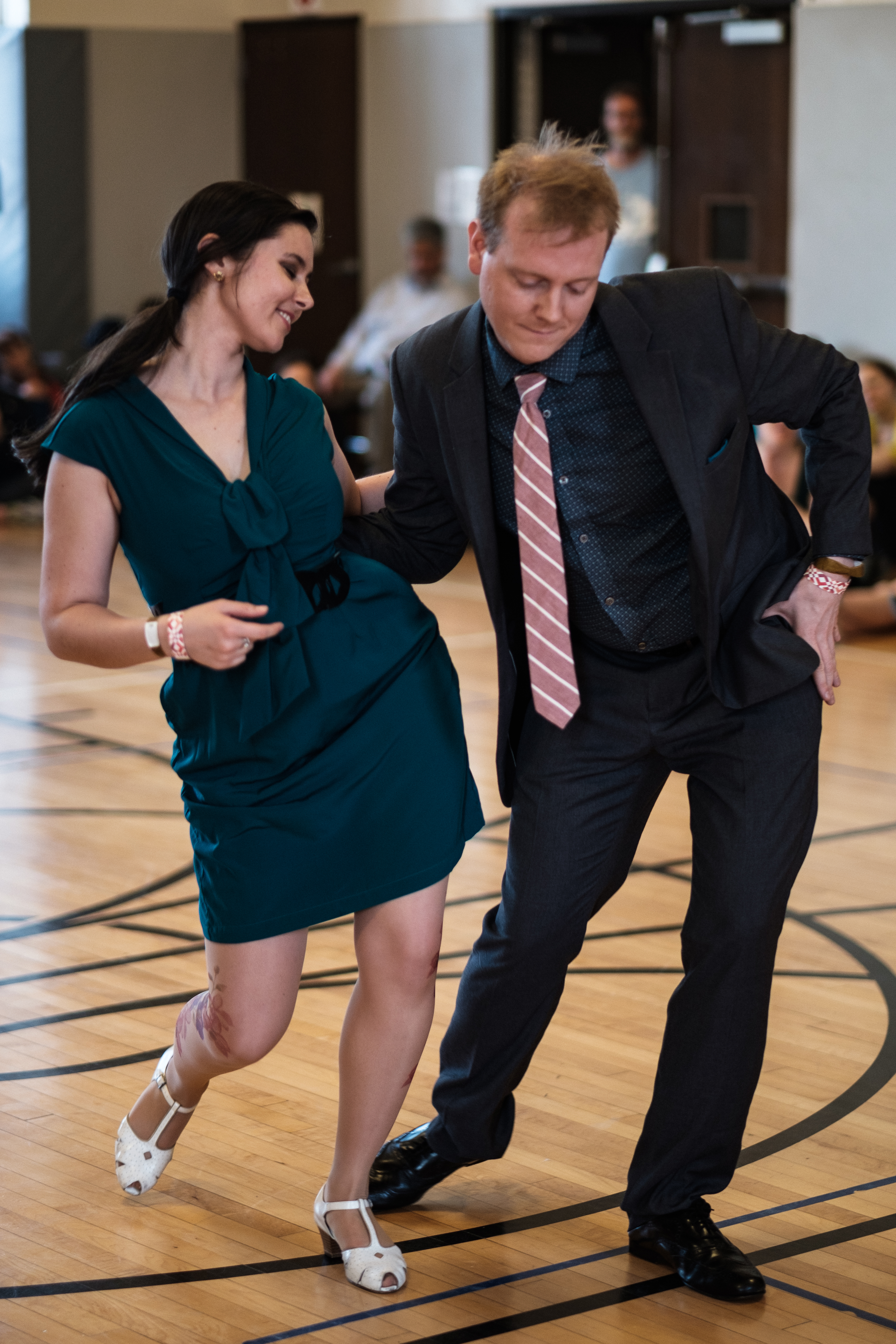 Laura Chieko loves to dance, even more than she loves shoes. Since 2006, Laura has trained in Lindy hop, balboa, and blues, and dabbled in a myriad of other dance styles. She is known for her grace, enchanting performance, and effortless following. Her musical training informs her intricate musicality and opinions on how clarinets should sound. Laura loves blues for its emphasis on connection and the rich diversity in its music which she seeks to celebrate on and off the dance floor. On that dance floor, she is best known for her poise, ability to rock the color orange, and occasionally winning things.
An educator in dance halls and traditional classrooms, Laura is known for her sunny disposition, student engagement, and captivating exploration of tiny details. She pulls from her wide cross training to create classes accessible to a broad range of students. Learn more at laurachieko.com!
Nicole Balcom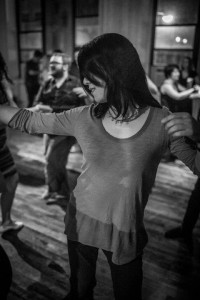 A social dancer at heart, Nicole loves Blues music and dance, and looks at an open dance floor in the same way a kitten would, because she is a kitten. Her playful nature leads her to a belief that individual style and creativity are a must, and need to be wound around a solid fundamental core. Her approach to instruction reflects this by placing the basic concepts into boxes, where she can be found peering out from one of them, or hopping from one to another; connecting and relating them to provide a cohesive understanding of the dance.
Wide eyed and full of energy, Nicole can be found dancing across the country and hopes that she can provide mew with the tools to make the dance your own.
Rachel Stirling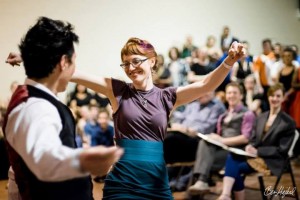 Though she's been dancing all her life it wasn't until 2003 that Rachel got her first taste of blues dancing, shortly after getting hooked on lindy hop. She fell in love with the intimate connection between your partner and the music and all that hip movement. As her blues dancing has grown, she continues to marvel at the unlimited possibilities of self-expression and movement.
When teaching dance, Rachel loves putting her degree in education to good use. Known for her incredible patience and ability to explain and demonstrate concepts in a variety of ways, she strives to get those "Aha!" moments. Rooted in strong fundamentals and clean technique, her lessons enjoy finding fun ways to sneak that focus into peoples' dancing.  As a regional and national instructor, scene organizer, and avid competitor/performer, she is spreading her love of Blues from coast to coast.  www.redstirling.com