What makes Red Hot really special isn't just the amazing live music, incredible DJs, or dance after fantastic dance. It's the FOOOOOOD!! We're bringing back our classic BBQ competition – still with a meat and vegetarian division.  And serving up a crawfish boil. And a catered BBQ picnic on Saturday. AND the Capital Blues signature full meals at late nights to keep you dancing into the wee hours of the morning. Eat your heart out, dancer.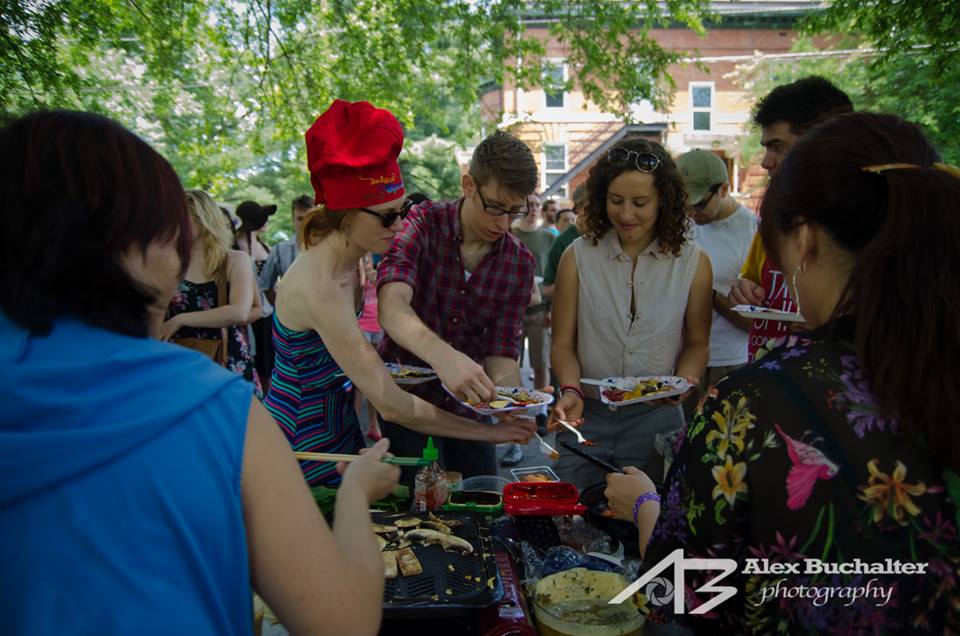 Menu
Menu may be subject to change, but here's the plan at the moment. Capital Blues is committed to providing vegetarian, vegan, gluten-free, and dairy-free options at all meals. 
Friday Late Night: Shrimp & Sausage Jambalaya, Veggie Jambalaya, Vegetables, Coffee, Tea.
Saturday Afternoon Picnic: Pulled Pork (Smoke & Barrel), Pulled Chicken (Rocklands), BBQ Tofu (TofuDelights), and classic sides such as Coleslaw, Baked Beans, Mac n Cheese, and Sweet Tea.
Saturday Late Night: Beef Chili, Veggie Chili, Traditional Cornbread, Gluten-Free Cornbread, Coffee, Tea.
Sunday Afternoon Picnic: Crawfish Boil, Corn-on-the-Cob, Coleslaw, Watermelon, Sweet Tea, and, most importantly, whatever amazing things the BBQ competitors cook up.
Sunday Late Night: Chocolate Mousse and other surprises!
Food Sponsors
Smoke & Barrel
BBQ Competition
Do you make a stupendous spare rib? Prodigious pork? Tantalizing tofu? Prove it by bringing your best dish to our BBQ competition! We still have spots left in our meat and veggie divisions, and you can sign up on the food tab once you're logged in. Each competitor will be reimbursed up to $100 for their efforts, and the winner will be rewarded with a fabulous (and top-secret) prize. Our judging panel includes a celebrity judge this year–the Executive Chef and Pit Master from Smoke & Barrel! Sign up on our registration page, under "food."
Will take place Sunday afternoon between 1 and 5pm
Must provide judging plates for 5 people
Must provide tasting plates for 40-50 people
Team is responsible for purchasing all food and bringing any tools and cooking equipment needed
Will receive up to $100 reimbursement from Capital Blues (save your receipts!) to help with food costs (team accepts costs in excess of $100)
Winners of the 2014 BBQ competition!
Winner of the VEGGIE division: Halley Lisuk!
Winner of the MEAT division: Rachel Cassandra! 
Honorable mention of the MEAT division: Duane Grover!