Mike Marcotte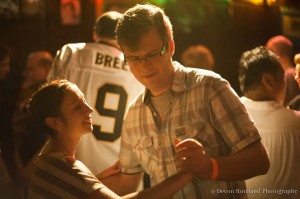 Mike is a founder of Capital Blues and a lead organizer for Red Hot 2015. He is a diligent, brilliant organizer who possesses talents that defy the human imagination. Switch to a new venue last minute? Done. Apparate a piano? No problem. Run countless dances, lessons, and events as a DJ, teacher, and every other thing you can do? Yes, yep, and absolutely.
Rachel Stirling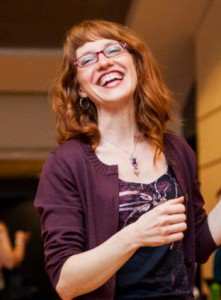 Rachel is our Blues Goddess Emeritus and a lead organizer for Red Hot 2015. After founding Capital Blues with Mike many moons ago, she moved to the West Coast, from which she sends us vast amounts of organizing knowledge and dance love. She can be found teaching classes, running registration, and herding dancers (it's like herding cats, which means Rachel is super-skilled).
Heather Lynn Brady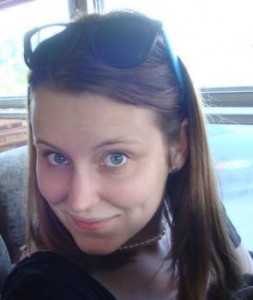 Heather is a lead organizer for Red Hot 2015 and a lover of blues dance, community, and BBQ. She has been gathering venues, working on communications needs, and doing a multitude of other things to make it all possible. Did you hear about this event? It's probably because she can't stop saying the words "Red Hot" over and over, and she's glad you're all coming to dance with us!
Feonix Fawkes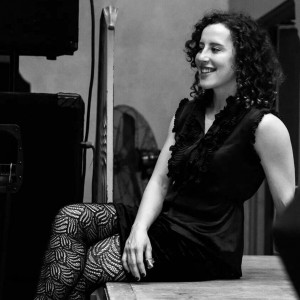 Feonix is a lead organizer for Red Hot 2015 and an all-around gem. Her artistic talents grace our event postcards, which are the coolest, and her ability to keep an event meeting focused and on track is peerless. If someone's ripping up the dance floor, it's probably her.
Boris G.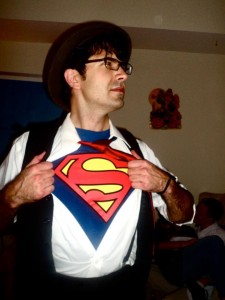 Boris is a troublemaker and fantastic DJ in this fine city of DC. For Red Hot 2015, Boris is also our stellar DJ coordinator, bringing you the best in musical excellence and organizational brilliance like the rock star he is. From band breaks to late nights, from afternoons in parks to afternoons in Dupont Circle, there is no DJ task too big or too small for the outstanding team of music people Boris has assembled.
Megan Taylor Morrison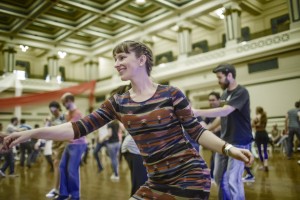 Megan is our promotions guru and Volunteer Coordinator for Red Hot 2015. She possesses the wisdom of the ages and a heart of gold that make her a jewel of the DC dance scene. Whether she's teaching, writing fancy newsletters, or picking up many tasks that need to be done, you can bet she'll keep you dancing and warm your heart.
Marshall Douglas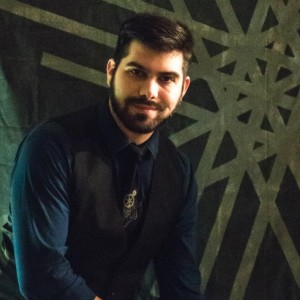 Marshall Douglas, who has been feeding hundreds of people for hundreds of years, is food coordinator for Red Hot 2015. As an ancient food wizard, he has cooked for multitudes, keeping them full and happy so they can dance until the sun comes up. He is super-into chilis, crawfish boils, and the best chocolate mousse your taste buds have ever seen.
Aries Indenbaum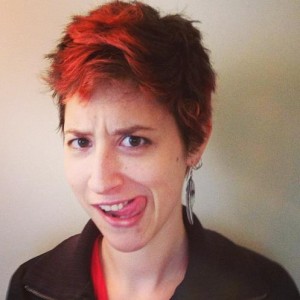 Aries is housing coordinator and emcee most excellent for Red Hot 2015. Her dulcet tones, which have guided many dancers through many blues weekends in D.C., will tell you where to go, where to sleep, and when to stop dancing and eating just long enough to find out how to dance and eat more.
Michelle Morrison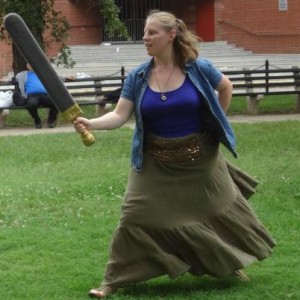 Michelle is a swashbuckling hero of amazingness. She is the BBQ competition master for Red Hot 2015 and Aries's housing minion. That smoky, perfectly seared deliciousness you smell? That's the aroma of a well-organized BBQ comp, coming to you all the way from this event in the near future.