Lineup
---
Friday Main: Robert Lighthouse and the Trouble No More
Robert Lighthouse, a native of Sweden, first came to the United States at the age of 18, determined to learn more about the music he loves – Mississippi Delta Blues. For eight years he traveled around the country visiting blues Meccas like Chicago's famed Maxwell Street and New Orleans, the cradle of the blues. He settled in Washington, DC in 1988 and established a cult following as a street musician. He toured Belgium and Holland with the Charlie Sayles Band and then landed his own steady gig at City Blues Cafe in D.C.
While Robert often does a one-man show to rave reviews, this time he'll be joined by his band, the Trouble No More.
---
Friday Late Night: The Ceruleans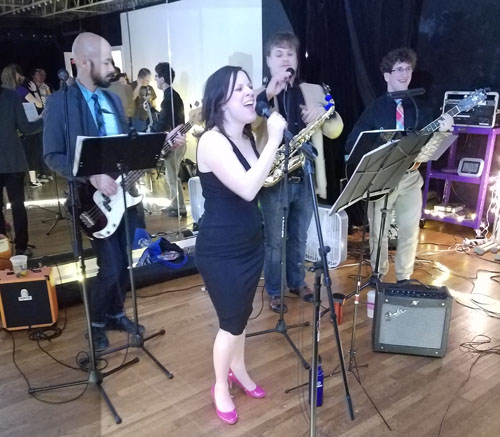 The Ceruleans are the DC/Baltimore area's latest blues band, playing for dancers wherever they're called! They've been described as amazing, fantastic, authentic, amazeballs, and absolutely, ridiculously fun to dance to. In fact, all the band members are dancers in the DC and Baltimore blues dance communities, and we love them! They rocked the Friday late night at DCLX 2017, and we're thrilled to have them back for Red Hot Blues & BBQ!
---
Saturday Main: The Stacey Brooks Band
Stacy Brooks was dubbed DC's Queen of the Blues by her musical peers in Washington DC when she decided to dive deep into the Blues n 2007. Stacy works very hard to keep that opinion alive & well. Washington DC is not known as a Blues Town but ask anyone in Chicago, Key West, Memphis, Atlanta and Europe when coming to DC, they will tell you Stacy Brooks is a must see. The Stacy Brooks band won the DC Blues Battle of the Bands and competed in the 30th Annual International Blues Challenge in Memphis, Tn January 2014.
Stacey Brooks is a long-time favorite of DC blues dancers, and we're thrilled to have her out again. As a special treat, she'll be joined not only by her usual band, but also a brass section, to really fill up the Spanish Ballroom!
---
Sunday Main: 'King' Solomon Hicks
SOLOMON HICKS HAS BEEN CALLED 'LIL' B.B. , AND KING SOLOMON BY HIS FANS FROM NYC, NATIONALLY AND NOW INTERNATIONALLY. He is the real deal…the next best thing out of New York City. Solomon has been in the biz since age 13 as the lead guitarist and performer at the Cotton Club, with a 13-piece band. He recorded his first CD, Embryonic, at age 14 with the Cotton Club All-Star Band.
In 2015, Solomon opened for the band KISS on the KISS Kruise V from Miami to Jamaica. And this past summer Solomon and his band were invited to play on the Joe Bonamassa blues cruise!
He has 2 CDs and is touring Europe and performing all over the states. Several newspapers and magazines have written about Solomon's extraordinary talents, including The Washington Post, New York Daily News, The New York Times, Amsterdam News, Montana's Bigfork Eagle, Hartford, Conn., and the New Jersey Jazz Society News. His story also received coverage on the PBS and CUNY TV series American Music, ABC, multiple public access programs, and radio stations like WBGO 88.3 Jazz and WHCR 90.3.
Solomon and his mentor Melvin Sparks played at the Blue Note. Solomon has worked with and played with many artists such as Ne-Yo, Tony Bennett, Jon Hendricks, Russell Malone, Stanley Banks, the B.B. King Blues Band (with Junior Mack, led by Jerry Dugger), Lonnie Youngblood, Winard Harper, Danny Mixon, Antoinette Montague, Roger Anderson, Elvin Bishop, the Cotton Club All Stars, JC Hopkins Big Band, Alex Blake, and more. Solomon teaches music theory, beginner guitar, and advanced guitar. He has taught music to children at the Children's Aid Society.