THIS THURSDAY: Clarence Turner in the Back Room
$12 — Drop-In Lesson @ 8:15pm; Live Music: 9pm-12am
This Thursday night, the Back Room will feature live music from The Clarence "The Bluesman" Turner. We've had him for previous Red Hot Blues 'n BBQs as well as BamBLOOZled, but this Thursday is an excellent chance to dance it up. Come early for Glen Echo's summer concert series, ride the carousel, and share a pint down at the Irish Inn.
---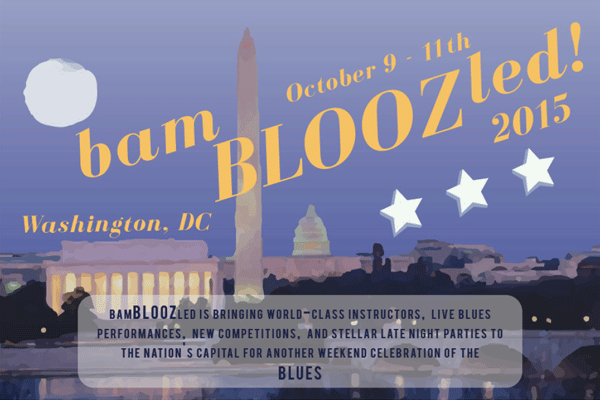 – October 9, 10, & 11, 2015 – 
BamBLOOZled is our signature workshop weekend and celebration of the Blues. We'll have world-class instructors, live Blues performances, new competitions, and stellar late night parties. Come to the District for the party that started it all.
Registration will open on July 1st!
We've got three lovely price tiers for you to choose from:
On a Budget: $105
Regular Price: $135
Benefactor: $165
As we do with all of our big events, we will put all of our tiers live at the same time and keep them all open right up until registration closes (or until the tiers fill – there is a cap of 50 spots for the lowest tier, so that we can be sure we don't go over capacity and violate fire codes). We want dancing to be a wonderful thing that everyone can enjoy, so if you're hard up for money, stay tuned for volunteer opportunities and keep your eye on those tiers! We will announce when we're getting close to filling the lowest tier. And don't forget: Please choose the price that matches the upper level of what you are able to pay for and save the lowest tiers for those who really need it.
We've also got some instructor announcements for you! We still have a few surprises up our sleeves, but we can tell you that Tim O'Neill, Rachel Stirling, Ruth Evelyn, and Mike Grosser are all prepared to teach you amazing things at this year's BamBLOOZled. Read about them here! 
---
Emergence Blues Lessons — Weekly Beginner Series in DC!
Wednesdays @ 8:00pm at Emergence Community Arts Collective
We're running  a weekly beginner series in DC! Classes begin at 8:00pm, every Wednesday at Emergence Community Arts Collective at 733 Euclid Street NW (right off Georgia Ave, next to Howard University).
More information can be found at:
http://capitalblues.org/workshops/wednesday-emergence-blues-lessons/
---
Confession: I want to write you a letter.
Right now, we do a lot of our publicity and announcements at Back Room Blues and on our local events page on Facebook but we'd rather be a bit more… personal. We'd like to keep you informed of dances and events so you can plan ahead, get early bird discounts, and maybe take the next day off work.
And so we're asking, most kindly, if you'll sign up here for this newsletter. We'll be sending you a letter when we've got a band playing at Back Room (Bushmaster! Solomon Douglass! Clarence Turner!) or are opening registration for a big event. No spam, no bullshit. Sign it up right here!
---