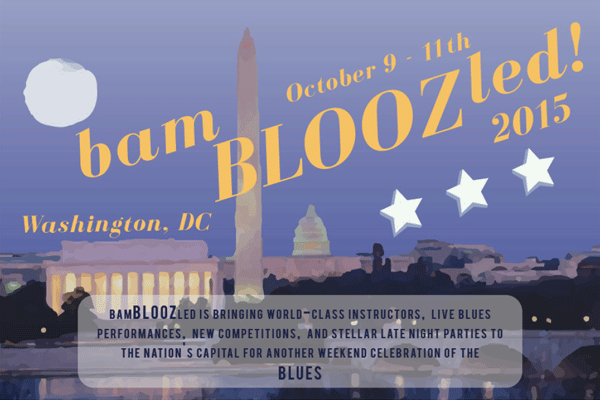 We're only a couple of days away from the workshop weekend that started it all here in D.C.'s blues dance scene. As you pack your things and get psyched for all the awesomeness we have in store for you this weekend, here are some last-minute to-dos, important bits of information, and reminders:
1. Registration closes tomorrow night (Thursday) at 11:59 p.m.! If you have not registered yet, get on that. We've sold out of our Tier 1 passes, but we still have a few Tier 2 and 3 passes left. Here's the link. Indulge yourself this weekend and join us.
2. If you registered and signed up for housing (as hosts or hostees), those assignments have gone out! If you have not received your housing assignment, please contact us ASAP to get that sorted out.
3. It's finally ready for you to peruse with excitement: the class schedule. Check out the phenomenal, inventive, exciting workshops our instructors have put together for you, and start planning your ultimate choose-your-own-adventure dance weekend. We've still got a few tweaks and surprises, so check back throughout the weekend.
4. One of the many great things we offer at our events: amazing food. This year, in addition to the delicious full meals being cooked up at our late-night dances (risotto! polenta with tomato sauce! mashed potato bar! champagne!), we'd like to deliver lunch to you during the lunch break on Saturday and Sunday workshop days. We know that our venue is pretty far away from many lunch options, so if you fill out this form (also linked to on our BamBLOOZled food page) with your food order, we will deliver it to you and you can pay for it when you receive it. There will also be physical non-Internet copies of this form available that you can fill out as well.
5. Wondering what the details are for the rest of the weekend? Check out the full event schedule here! You'll find crucial details like when the dances are, where they're being held, when competitions are, and when you'll sleep (haha maybe).
6. We've got some really interesting, innovative comps for you this year, from a Pro-Am to an Open & Invitational J&J combo to a solo riffin' comp! If you find yourself so enticed by the options that you want to throw down on the competition floor instead of being inspired by watching it, you can add it to your registration online (or, if that gets glitchy and weird, sign up at the door when you get here).
7. Check out our sweet venues for this weekend! Some of them are Metro accessible, but don't forget to check on the time of that last train or bus so you don't wind up stranded and sad. Some of them are not easily Metro accessible (like Glen Echo, where our workshops and main dances will be held), so we highly recommend making a new friend (or joining forces with people you already know) who is willing to fill their car with your joyous dancer body.
8. In town early? Check out Back Room Blues, our weekly Thursday night blues dance at Glen Echo's Back Room! Get times, prices, the location, and more details on the FB event here. Start your weekend early with us, because more dancing is most excellent!
We cannot wait to dance with you, learn alongside you, and splash a little warmth your way from our blues dance community.
See you so very soon,
Capital Blues