The Back Room at Glen Echo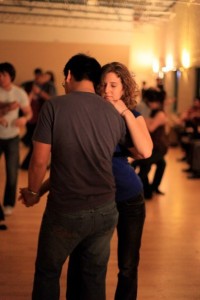 The Back Room
Glen Echo Park
7300 Macarthur Blvd
Glen Echo, MD‎
Every Thursday night dancers converge upon "The Back Room" at Glen Echo for the best in DJed dances in the Washington, DC area. Different DJs and instructors offer a unique experience every night. Did we mention Air Conditioning? The space has gorgeous sprung hardwood floors, air-conditioning, and a water cooler! Bring your own water bottle, and help us save the planet one dance at a time.
The Dance is $8, and comes with a free lesson first. In addition to cash, credit cards are accepted (via Square).
The Lesson: 8:15pm-9:00pm
Rotating instructors keep these lessons fresh and different. Our scene will continue to grow only if we encourage more instructors, djs, and dancers to join and fuel the community. Our instructors are usually local dancers who are as excited about this dance as anyone, and they're here to share that with you.
The Dance: 9:00pm-11:30pm
Washington DC is blessed with a number of good DJs in the area, and every week we'll usually have two DJs spinning great tunes mixing things up. This way our dancers will always be exposed to new music, and every week will offer something new. Enjoy!
Where is the Back Room?
First off the Back Room is located at Glen Echo Park, in Glen Echo Maryland. The address is 7300 MacArthur Blvd., Glen Echo, MD.
The room is located directly behind the Spanish Ballroom, which is directly next to the picnic area in the center of the park. Facing the ballroom, turn left and walk to the side of the building where you'll see a couple of stairs, hopefully a stand-up sign, and there is the entrance to the "Back Room." Here is a map:
Getting to Glen Echo
By Public Transportation: Glen Echo Park is served by the Route 29 Ride-On bus, which leaves from both the Friendship Heights and Bethesda Metro stations on the Red line. This bus is available weekdays, Saturday, and Sunday. The bus trip from Friendship Heights or Bethesda to Glen Echo takes approximately fifteen minutes and leaves every 30 minutes, on the hour and half hour. Bus fare is $1.10 during peak hours, 90¢ off-peak, and only 25¢ with a metro transfer. Be sure to have exact change or don't expect to get any back. The Glen Echo bus stop is located at the Amoco gas station at the end of Goldsboro Road. The stop is lighted and there is a public phone available. From the bus stop it is a 5-minute walk along MacArthur Blvd. to the upper entrance of the park. NOTE: The last bus leaves at 9:00 pm on Friday and Saturday.  You can usually find a ride from one of the friendly dancers, and we'll even help you find a ride during announcements around 10:15pm.