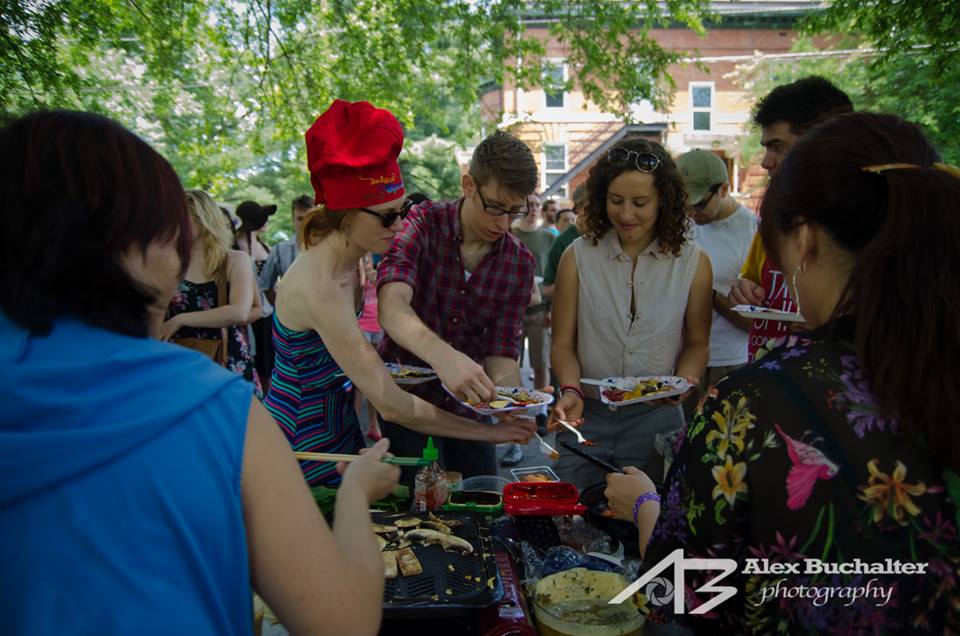 What makes Red Hot really special isn't just the amazing live music, incredible DJs, or dance after fantastic dance. It's the FOOD! Instead of dance competitions, we have culinary ones! (All the details are on our food competitions page.) We'll also be feeding you plenty throughout the weekend. There will be a catered BBQ picnic on Saturday. Our traditional crawfish boil prior to the BBQ comp.  And, of course, the Capital Blues signature full meals at late nights to keep you dancing into the wee hours of the morning. Eat your heart out, dancer.
Food Menu
Capital Blues is committed to providing vegetarian, vegan, gluten-free, and dairy-free options at all meals.  We also have taken all food allergies that we know about into account in preparing the menu.
Friday Late Night Meal: 
Shrimp & Chicken Jambalaya
Chicken Jambalaya
Vegetable Jambalaya
Hot Coffee and Tea
Saturday Afternoon Picnic + Dessert Comp :
Catered BBQ Proteins:
Home-cooked sides:

Classic Coleslaw
Spicy Vegan Coleslaw
Baked Beans with Bacon
Vegetarian Baked Beans
Buns
Cornbread

Sweet Tea and Lemonade
Followed by delicious desserts from our six dessert competitors!
Saturday Late Night Meal:
Baked Mac n Cheese (traditional, gluten-free, and dairy-free options) with toppings including:

Beef Chili
Veggie Chili
Bacon Bits
Vegetables

Hot Coffee and Tea
Sunday Afternoon Picnic + BBQ Comp:
Crawfish Boil
A Brisket-Off in the Meat BBQ Category
Exciting Vegan BBQ in the Vegetarian BBQ Category
Burgers and Hot Dogs
Vegetable Skewers
Home-cooked sides:

Coleslaw
Corn-on-the-Cob
Watermelon

Sweet Tea and Lemonade
Sunday Late Night Snacks + Secret Comp:
Sustainability:
Make Red Hot Green Again
In 2016, Capital Blues took a big step to reduce the environmental footprint of Red Hot Blues & BBQ. Through a brand-new composting effort, along with recycling, we were able to divert over 80% of waste from the event from landfills.
This year, we are aiming to be Zero-Waste event. All plates, bowls, cups, and cutlery will be compostable. Please place your waste in the compost or recycling as applicable, and use trash cans as a last resort. Thanks!